This year's theme for the Australian Association for Bush Adventure Therapy (AABAT) National Forum 2022 is 'Venturing Out, Journeying Within', a theme which challenges us to practice what we preach about the practical application of outdoor, nature-based experiences for the purpose of healing and enhancing our health and well-being.
AABAT NATIONAL FORUM DATE CONFIRMED FOR 2022
For staying the course with us, we are extending current registration prices if you register in the next few weeks (until 30 September) – so you can still grab a bargain basement registration rate before there is a small price adjustment from 1 October.
Another reason to register now is that along with existing registrants you will also go into the draw to win a ticket to a pre-forum workshop of your choice on the Friday of the forum!
The volunteer planning committee look forward to enjoying a well earned breather over the summer and resume planning in the new year to bring you a brilliant event in 2022!
Don't forget to keep an eye out on the emerging presenter line up and program updates here – https://forum.aabat.org.au/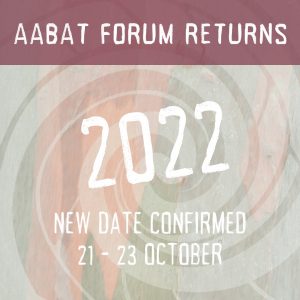 .