UPLOADS Annual Report 2020/21
This annual report provides an overview of the incidents reported to the National Incident Database from the Understanding and Preventing Led Outdoors Accidents Dataset (UPLOADS) project for the 12-month period of September 14, 2020 to September 13, 2021.
The report describes: the incident rates per incident type and activity; the severity of the reported incidents; an overview of the report injuries and illnesses sustained; and the network of contributory factors reported as playing a role in incident causation. The report also presents a comparison between key variables from the current dataset and the previous UPLOADS annual reports.
This report shows the positive committment from Outdoors SA and many partners across Australia in supporting safety in the outdoors.
Click here to download the report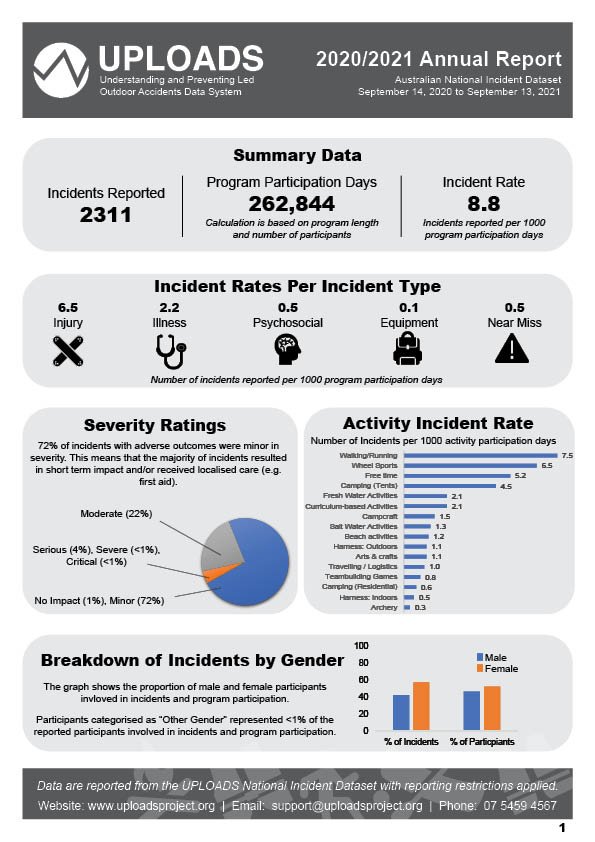 The overall incident rate decreased slightly from 9.5 in 2019/20 to 8.8 in 2020/21. Incident
rates have remained relatively stable over the last three annual reports, with the exception
of the lower rate for injury in the 2018/2019 report.
The most frequently reported contributory factors in 2020/21 are similar to those reported
in previous annual reports, including Parent, Supervisors and Leader Communication, Peer
Interactions, and Mental/Physical condition of activity participants. Future safety initiatives
for the Led Outdoor Activity sector should identify strategies which aim to reduce these common and
recurring contributory factors.
There is consistently a higher percentage of females involved in incidents compared to
males. Possible explanations may be the higher proportion of female participation on
programs, or that females are more likely to report incidents than males. Further
investigations are required to better understand this finding.